2018 Vegetable Trial Recap
November 20, 2018 | By Rupp Seeds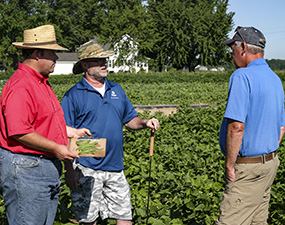 One of the foremost objectives in our product development department is to introduce new, cutting-edge products to our customers. Annually, we conduct trials on a broad array of species at our home experimental station at Wauseon, Ohio. We also partner with various grower cooperators from the Midwest and Northeast, to obtain evaluations from various regions, soil types, growing practices and weather patterns. When this data collection is complete, we are able to determine which varieties will work well over a broad geography.
In addition to the trial efforts at our home station, we also toured Wisconsin and New York trials to meet with numerous vegetable seed suppliers and observe up-and-coming experimental varieties that may have value in the future. Some of these products are set to be released in 2019, while other varieties are slightly behind in the pipeline. This is an essential phase to assist our suppliers in understanding which products have value for instant release while also letting us get a look at potential options for the future.
Our 2018 trials were comprised of primary commercial varieties as checks, along with experimental varieties from a number of suppliers. We trialed: green beans, broccoli, sweet corn, cantaloupe, peppers, summer squash, tomatoes, and watermelon.
We hope that the time and resources we put into conducting trials is helpful in aiding you to choose the most advantageous items for your farming operation.
Green Bean Trials
The 2018 green bean trial included several commercially named hybrids. Data was collected on: plant structure, sieve size, pod length, pod smoothness, pod straightness, pod color, and yield. The varieties that topped the trial were: Achiever, Momentum, Inspiration, and Sybaris. Despite the dry and hot conditions, which caused several of the varieties to drop blossoms and split set, these four cultivars performed extremely well.
Broccoli trials
The broccoli trial consisted of 22 commercially named and experimental hybrids. The data points included: head size, bead size, bolting tolerance, dome shape, dome uniformity, maturity uniformity, and brown bead tolerance. Interestingly enough, Millennium and Durapak 16 tied for tops in the 2018 trials. These same exact two varieties were the top two commercial varieties in our 2017 trial! Very solid performers especially with the extreme heat we had this summer. There were also a few experimental hybrids that were quite captivating. If these are advanced by the suppliers, we will plan to keep you updated in the 2020 Resource Guide.
Sweet Corn Trials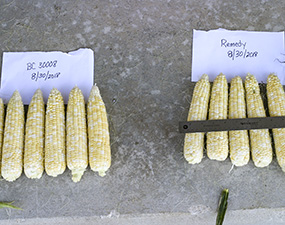 Sweet corn hybrids were evaluated on the basis of ear height, plant height, harvest ease, shank length, husk color, husk cover, flags, tip fill, ear length, ear diameter, number of rows, flavor, and texture.
SE / SYNGERGISTIC
Our main season trial consisted of 41 varieties. Approximately 73% of the plot was bi-color, 15% white, and 12% yellow. In the bi-color class, some of the top commercial varieties included: Essence (main season commercial check), Temptress (very solid across the board for 1st/2nd early variety), Allure and Kristine (main season commercial checks), Remedy (late season Attribute II), and Latte (1st early variety). Nectar (new for 2019) received honorable mention as an overall solid performer in the trial. The top commercial white varieties were: Illusion (early) and Mirage (late). Inferno was once again the commercial winner in the yellow class. There were several experimental hybrids that scored well, and if they become available at some point, we will plan to release those names.
SH2
Our main season trial was comprised of 144 varieties. Approximately two-thirds of the plot was bi-colors and the other one-third was split evenly between whites and yellows. In the bi-color section, the commercial winners were: Anthem XR II (BT) and conventional Anthem XR. Kickoff XR (1st early) also finished very near the top of the chart. Two honorable mentions, with very good eating, in the main season class were Nirvana and Cumberland. Freedom MXR (new in 2019), XTH 3674, and Eden all tied for top commercial variety in the white SH2 class. Takeoff (early) received high marks in the yellow class.
Melon Trials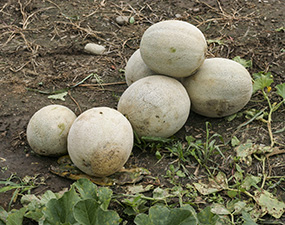 The cantaloupe trial consisted of 37 commercially named and experimental hybrids. We evaluated for fruit weight, brix, cavity size, suture definition, netting, flavor, rind thickness, interior color, and flesh firmness. There were several high quality hybrids that rose to the top including: Tirreno (Tuscan), Shockwave (LSL), Sugar Rush (new for 2019 - big brother to Sugar Cube!), and Sun Blushed (Western). Solstice (large Eastern) and Accolade (shipping Eastern) were honorable mentions. There were three "red flesh" type experimental varieties that weren't overly large, but WOW! were they delicious. Stay tuned to see if any of these make it to market in 2020.
Pepper Trials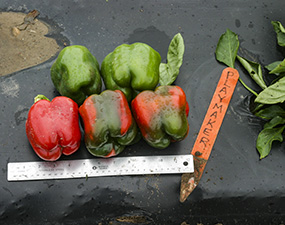 The pepper trial contained 55 bell, 60 hot, and 34 specialty sweet hybrids. Concerning bell peppers, we rated fruit color, fruit firmness, shoulder appearance, fruit uniformity, wall thickness, and blossom end. Some grower favorites were toward the top of the bell pepper data including Autry, PS09941819, PS09979325, SV3255PB, and Playmaker.
All five of the hybrids scored very well across the board and should be grown with confidence. There are several new hot and specialty sweet peppers added to the 2019 Resource Guide, many of which we were able to observe firsthand at our Wauseon, Ohio trials this past summer.
Summer Squash Trials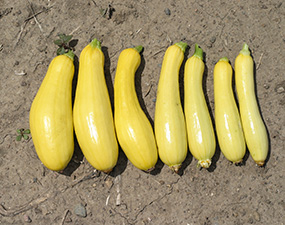 Twenty commercially named and experimental hybrids made up our green zucchini and yellow straight neck summer squash trial. Points of evaluation were the amount and size of petiole spines, easy-twist harvesting capabilities, fruit uniformity, size of blossom scar, fruit gloss, skin texture, and plant type.
The commercial winners in the green zucchini class were: Liberty (New for 2019), Green Machine, Dunja, and Payload. Blonde Beauty easily topped the yellow straight neck class.
Tomato Trials
The 2018 tomato plot consisted of 47 commercially named and experimental round cultivars. We evaluated the hybrids on fruit shape, fruit size, blossom scar size, interior color, flesh quality, shoulder quality, fruit firmness, fruit set, flavor, and bacterial infection. The top tomato varieties this year included: Rally, BHN-964, Volante, Tribeca, Grand Marshall (New for 2019), Roadster (New for 2019), and Katana (New for 2019). These are great hybrids that cover an array of maturities to provide you with quality tomatoes throughout the season.
Watermelon Trials
The 2018 watermelon trial was comprised of 14, mainly commercial, triploid hybrids. Categories of evaluation were pip size, interior color, flesh quality, flavor, and weight. It was a very close contest with 10 of the 14 hybrids being very acceptable. Joy Ride was #1 with Melody, Fascination, and Sweet Gem following close behind.