Weed Infestation Impact on Nutrient Availability in Corn
May 31, 2021 | By Rupp Seeds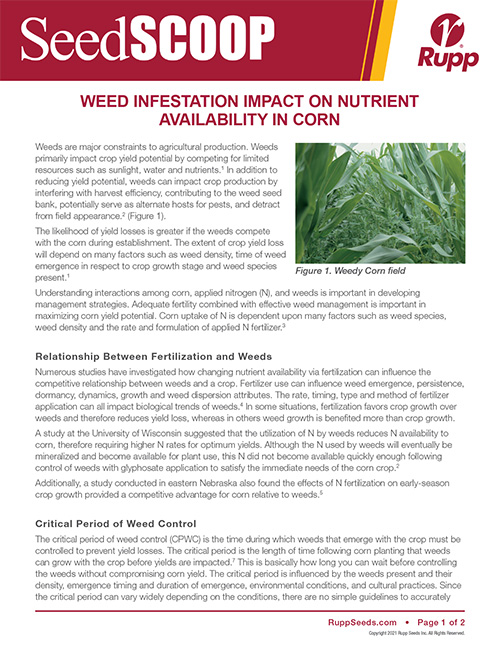 Weeds are major constraints to agricultural production. Weeds primarily impact crop yield potential by competing for limited resources such as sunlight, water and nutrients.1 In addition to reducing yield potential, weeds can impact crop production by interfering with harvest efficiency, contributing to the weed seed bank, potentially serve as alternate hosts for pests, and detract from field appearance.
The likelihood of yield losses is greater if the weeds compete with the corn during establishment. The extent of crop yield loss will depend on many factors such as weed density, time of weed emergence in respect to crop growth stage and weed species present.
Understanding interactions among corn, applied nitrogen (N), and weeds is important in developing management strategies. Adequate fertility combined with effective weed management is important in maximizing corn yield potential. Corn uptake of N is dependent upon many factors such as weed species, weed density and the rate and formulation of applied N fertilizer.
Learn more about the critical period of weed control in this issue of SeedScoop.

Weed Infestation Impact on Nutrient Availability in Corn