Drought Effects on Nitrogen Availability in Corn
May 26, 2021 | By Rupp Seeds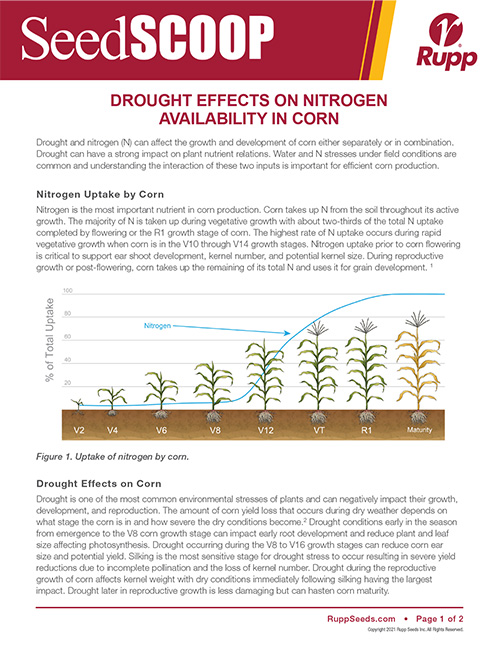 Drought and nitrogen (N) can affect the growth and development of corn either separately or in combination. Drought can have a strong impact on plant nutrient relations. Water and N stresses under field conditions are common and understanding the interaction of these two inputs is important for efficient corn production.
Nitrogen Uptake by Corn
Nitrogen is the most important nutrient in corn production. Corn takes up N from the soil throughout its active growth. The majority of N is taken up during vegetative growth with about two-thirds of the total N uptake completed by flowering or the R1 growth stage of corn. The highest rate of N uptake occurs during rapid vegetative growth when corn is in the V10 through V14 growth stages. Nitrogen uptake prior to corn flowering is critical to support ear shoot development, kernel number, and potential kernel size. During reproductive growth or post-flowering, corn takes up the remaining of its total N and uses it for grain development.
Read more to learn about drought effects on corn and how drought effects nitrogen uptake by corn in this issue of SeedScoop.

Drought Effects on Nitrogen Availability in Corn