Considerations for Baleage
October 12, 2020 | By Rupp Seeds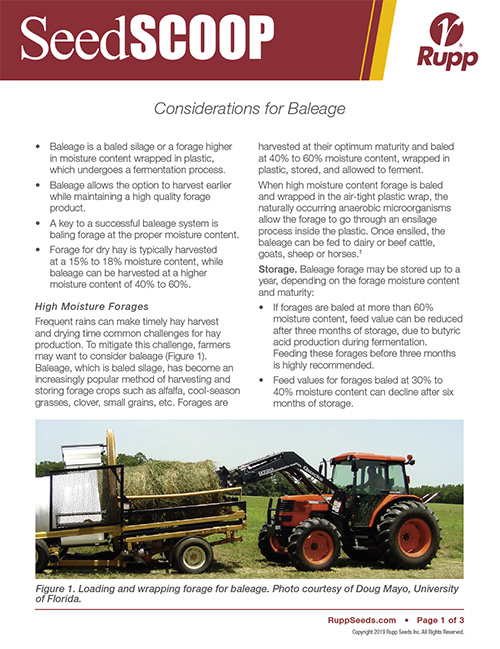 Frequent rains can make timely hay harvest and drying time common challenges for hay production. To mitigate this challenge, farmers may want to consider baleage (Figure 1). Baleage, which is baled silage, has become an increasingly popular method of harvesting and storing forage crops such as alfalfa, cool-season grasses, clover, small grains, etc. Forages are harvested at their optimum maturity and baled at 40% to 60% moisture content, wrapped in plastic, stored, and allowed to ferment.
When high moisture content forage is baled and wrapped in the air-tight plastic wrap, the naturally occurring anaerobic microorganisms allow the forage to go through an ensilage process inside the plastic. Once ensiled, the baleage can be fed to dairy or beef cattle, goats, sheep or horses.
Learn more about the advantages and disadvantages of baleage, storage recommendations and equipment needs in this issue of SeedScoop.

Considerations for Baleage